SERVING THE COMMUNITY WITH AFFORDABLE LEGAL SOLUTIONS
Immigration Attorney for Dallas, Texas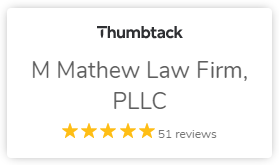 KAVI MATHEW
Attorney at Law
Born and raised in India, I actually earned my undergraduate degree in engineering and earned a masters in business administration before moving to the U.S. to further my education. After becoming a naturalized U.S. citizen, I decided to attend law school at the SMU Dedman School of Law in Dallas. After graduating in 2010, I've spent nearly a decade representing clients throughout the Dallas area on matters of immigration, personal injury, criminal defense, and family law.GET TO KNOW ME
DEVOTED TO BUILDING LONG-TERM RELATIONSHIPS
The interests of my clients always come first.
Put your case in perspective
I believe that one of the most important aspects of handling a case is working with my clients to help them fully understand their situation and all of the options they have available to them. Having that level of perspective will allow us to make smart decisions for your future.
Allow me to take some of the stress off your shoulders.
Legal troubles can add an untold amount of stress to your life. My job is to help relieve some of that burden by handling all of the legal complexities of your case, providing you with peace of mind. I want you to be able to rest easy knowing your case is in good hands.
I'm always available.
There's nothing more frustrating than having an attorney that you can't get in touch with. I'm committed to providing all of my clients with personal, one-on-one attention that will allow them to ask questions and address any concerns whenever they come up.
When it comes to your concerns, I'm approachable.
Having a relationship with your attorney that you can trust is crucial to the success of your case. I always provide open and honest communication with my clients, and I want them to feel comfortable enough to provide the same in return. If you have concerns, I want to hear them.
If you are looking for a lawyer who really understand your case and gives you a solid solution without taking extra time to make money from you, then Kavitha surely will be the right choice. She'll give you a very solid solution without taking much of your time. She is very passionate and honest with her customers.
Kavitha Matthew has kept almost my whole family in the United States. I came to Kavitha originally on December of 2013 in desperate need of a good attorney for my deportation proceedings. Kavitha kept me in the USA and did U-visa and was able to get me out of my deportation by getting my U-visa approved. I highly recommend Kavitha for any immigration case.
Kavi is smart and compassionate and helps her clients through some of the worst times in their lives. She assists her clients with reasoned and honest advice.
Thank you Kavitha for all your help! You were extremely helpful in a time of great stress for me during my divorce. I knew I was in good hands when you kept reassuring me that everything was going to be fine and followed through with it. She fights for your rights and handles everything with such professionalism. Thank you again for all your help!
I wish to thank you from the bottom of my heart for the victory of me & my 3 innocent children in winning our Asylum case for us within such a short period of five months. I don't think I could have ever found anybody else in this whole world who could have won this case with so much of dedication & human feelings for one's clients. You did as if its your own personal family case. With Grateful Thanks & Love from Deepika & 3 children.
PRACTICE AREAS
Discover exactly how I can help.
CORE VALUES
---
MY DESIRE
IS TO BRING FAMILIES TOGETHER
I understand the importance of family, which is why I do everything I can to reunite families and keep them together through my immigration case work.
I'm not just your attorney. I'm an advocate for your peace of mind.
Whatever legal issue you're facing, I understand the emotional toll it can take. I truly want to provide relief to you and your family by taking care of all the legal details of your case so that you can rest easy.
THE BUILDING BLOCKS OF MY FIRM


When I work with clients, it's important to me that they understand the values that are important to me so they can know what to expect when I represent them. I value honest and transparent communication with all of my clients and am committed to keeping them informed about their case during every step of the legal process.
I take this approach because I believe that honest communication and building a trusted relationship is the only way we can succeed together. I want you to feel comfortable enough to ask questions and speak openly about any concerns you may have at any point.